Aluminum Composite Panel (ACP) Market Size is Projected to Reach USD 12,458 million in 2027 | Size, Share and Global Forecast Report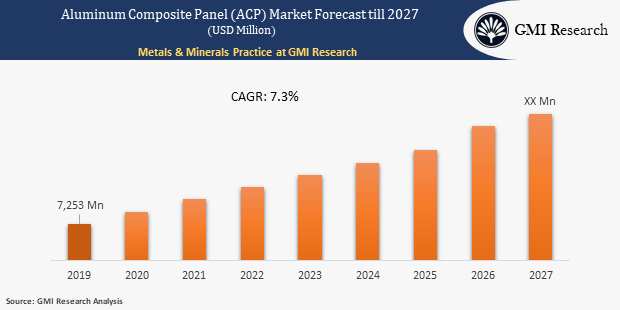 The Aluminum Composite Panel (ACP) Market size is expected to value at 12,458 million in 2027, registering a CAGR of 7.20% over the forecast period (2020-2027). Aluminum Composite Panels are cost-efficient and can be cut in any size, thus making them perfect for ceiling decoration and signage boards. Factors such as growing prominence of anti-toxic panels and surge in industrial and commercial activities will drive the market growth.
Aluminum Composite Panel (ACP) Market Dynamics
An aluminum composite panel is a flat panel made from two aluminum alloy sheets attached with a non-aluminum core to form a composite. ACPs are durable, flexible, weather-proof, and environment-friendly, contributing to their widespread usage. The primary factor contributing to the aluminum composite market growth is a remarkable surge in the advertisement industry. ACPs are majorly used for outdoor advertisement in public spaces and in-transit vehicles to display clear, captivating, and insightful ads. Also, it is used as a façade material in signage, insulations, and buildings.
ACPs are lighter in weight with an exceptional strength-to-weight ratio. The growing demand for aluminum composite panels due to the regularization in the building & construction industry will further bolster the market growth. Furthermore, the increase in construction of production plants, factories, stadiums, and corporate offices has stimulated the aluminum composite panel market share. According to the report published by Global Construction Perspectives and Oxford Economics, the construction industry is expected to touch USD 8 trillion by 2030.
Request for a FREE Sample Report on Aluminum Composite Panel (ACP) Market
The aluminum composite panels demand regular maintenance to increase the sustainability and durability of panel. The cost and time associated with repairing is a major challenge faced by aluminum composite producers.
Base Coating Type Segment Analysis
Polyvinylidene Difluoride (PVDF) or Polyvinylidene fluoride is anticipated to capture a larger share over the coming years. due to the increasing usage of PVDF in sheets, films, membranes, and coating in multiple industries such as chemical processing, oil & gas, construction, and energy. PVDF is majorly used in applications demanding high resistance levels, sterility to solvents, and exceptional strength.
Type Segment Analysis
The Fire-Resistant segment is predicted to dominate the market with the largest share during the forecast period. The increasing inclination towards fire-resistant aluminum composite panels in the residential and non-residential industry will further stimulate market growth. These panels are fire-resistant and protect against bacteria and microbes.
Regional Analysis
The Asia-Pacific region is expected to lead the aluminum composite panel during the forecast period. The surge in construction activities in developing nations like China, Indonesia, India, and Vietnam and the inclination towards low-maintenance building products are driving the market growth. In addition, large-scale investments in hotels by the tourism industries of ASEAN countries will provide lucrative opportunities for the market, owing to the application of ACPs in interior decoration purposes.
Various Key players operating in the market include Arconic, Yaret Industrial Group Co., Ltd., Mitsubishi Chemical Corporation, Alubond U.S.A., Alumax Industrial Co., Ltd., 3A Composites GmbH, Shanghai Huayuan New Composite Materials Co., Ltd., Guangzhou Xinghe Aluminium Composite Panel Co., Ltd., Chanshu Kaidi Decoration Material Co., Ltd., Jyi Shyang Industrial Co., Ltd. among others.
Key Developments:
In March 2016, Alubond U.S.A. introduced the latest A2 grade fire-resistant panels to improve its technology offering and for fire safety.
In August 2016, Alubond U.S.A. invested USD 13.6 million in its production plant in the UAE for A2 fire-resistant panels. This helped the organization to expand its production capacity and maintain its position in the Middle East.
In July 2017, 3A Composites purchased Athlone Extrusions (Ireland). This purchase helped the company to strengthen its market in the transport & industry business in Europe.
Aluminium Composite Panel (ACP) Market Segmentation:
Aluminium Composite Panel (ACP) Market by Base Coating Type
• Polyvinylidene Difluoride
• Polyethylene
• Polyester
• Laminating Coating
• Oxide Film
Aluminium Composite Panel (ACP) Market by Type
• Fire-Resistant
• Antibacterial
• Antistatic
Aluminium Composite Panel Market by Composition
• Surface Coating
• Metal Skin
• Core Material
• Rear Skin
Aluminium Composite Panel Market by Application
• Building & Construction
• Advertising
• Transportation
• Automotive
Aluminium Composite Panel by Region:
• Asia Pacific
o China
o Japan
o India
o Rest of APAC
• North America
o United States of America
o Canada
• Europe
o United Kingdom
o Germany
o France
o Spain
o Rest of Europe
• RoW
o Brazil
o South Africa
o Saudi Arabia
o UAE
About GMI Research
GMI Research is a market research and consulting firm which provides market insights and intelligence across 12 major sectors helping our clients in making effective investment and business decisions.
Media Contact
Company Name: GMI RESEARCH
Contact Person: Sarah Nash
Email: Send Email
Phone: +1 860 881 2270
Address:Level 1, The Chase Carmanhall Road, Sandyford Industrial Estate, Dublin D18 Y3X2, Ireland
City: Dublin
Country: Ireland
Website: https://www.gmiresearch.com