RACKINATOR Announces its Quick Release Bracket System to re-locate awning in under 10 sec
Converting backyards to camping sites, is now made possible by RACKINATOR's latest offering in Overland and Camping accessories.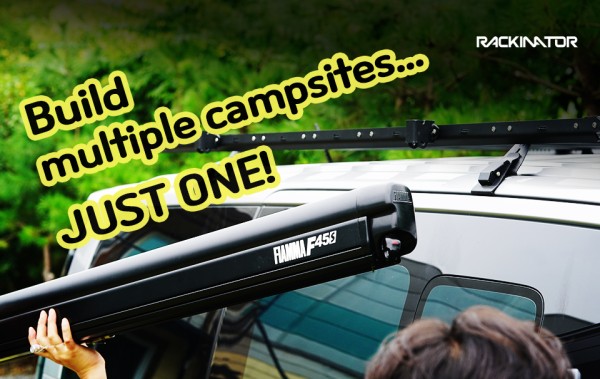 It has been proven that it adds to fuel efficiency when you remove Overlanding gears on the outside of the car. RACKINATOR, based in S. Korea designed a Quick Release Bracket System which can re-locate the awning within 10 seconds.
RACKINATOR QRBS is useful for users who want to :
1. Use one awning for 2 or more cars or caravans,
2. Extend resting space on their car's tailgate,
3. Extend space on their small caravan,
4. Use the car awning for indoor camping.
RACKINATOR QRBS uses 2,700 gauss neodymium magnet per pin (2 pins in total), allowing for toolless release. If a user has a set of crossbars (any make will do), they can not only add ARB, Rhino-rack touring type awnings, but can add THULE, Dometic Group, and Fiamma hard shell case awning types.
Sales Manager, Isaac Kim at RACKINATOR said "Our company that developed the LUMACA Awning in 2013, has gained much love and respect among Korean overlanders for the past 9 years. As LUMACA Awning has shown much pristine quality compared to other competitors, the QRBS that we've recently developed, will provide a whole new experience to the international Overlanding community."
"Here at RACKINATOR we take that same level of care and determination we did with the LUMACA Brand Awning and built that into the very foundation of our QRBS. This quality ensures our entire product line—from the ROCKSTEP sliders to the RACKINATOR Modular Racks—comes to you with high quality engineering as the guiding principle at RACKINATOR. Vehicles as big as the Chevy Colorado, to the Jeep Gladiator, Jeep Rubicon, the newly minted prototyped design for the Bolt EV, and others are all a part of the vehicle lineup that our company, RACKINATOR is able to outfit. We look forward to servicing our outdoor needs for years to come!" Isaac added.
Find out more about RACKINATOR's QRBS on YouTube: https://www.youtube.com/watch?v=nMzlDoRprPg
For more details, subscribe to the channel: https://www.youtube.com/c/RACKINATOR
About Quick Release Brackets:
The Quick Release Bracket System (QRBS) starts with the highest caliber of digital design and engineering. From the engineering experience of LUMACA Awning, the highest level of quality is achieved from the ground up. Prototypes are thoroughly evaluated and put through rigorous testing in real-world outdoor environments. This ensures that throughout the testing phase, we upgrade and change where needed, in order to provide the utmost quality to the consumer that keeps our company in the GAME!
Media Contact
Company Name: RACKINATOR
Contact Person: Isaac Kim, Sales Manager
Email: Send Email
Phone: +821062214796
City: Pyeongtaek-si
State: Gyeonggi-do
Country: South Korea
Website: www.youtube.com/c/RACKINATOR