Belem.cc Launches a New High Value Transactions System for Its Users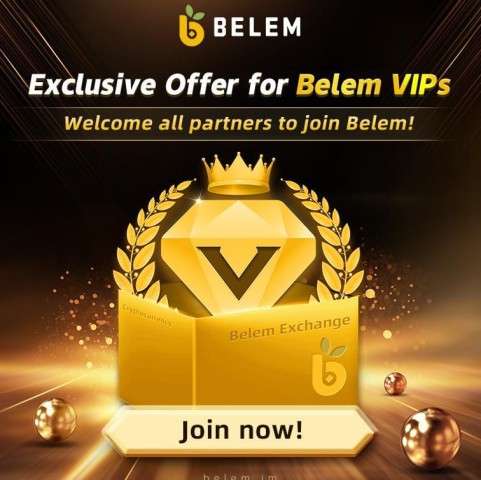 Belem.cc Exchange has emerged as a platform covering 120 countries around the world. It has more than 8 million users, with "users are wealth" as its core value, providing tens of millions of crypto users with a wide range of blockchain asset services. Recently, the platform announced its launch of BELEM VIP attracting investors and creating millions of wealth for users.
In the cryptocurrency world, Belem.cc Exchange launches BELEM VIP; the system continues to add value to assets and create high-value transactions from users' perspective, starting from the transaction rights and value-added system. The platform put investors as the priority and launched BELEM VIP after analyzing user investment habits, in-depth market research, and tens of thousands of tests by the Belem.cc technical team. BELEM VIP has attracted millions of investors and created millions of wealth for users.
BELEM VIP is set to (VIP1-VIP9) 9 levels; the higher the user level, the greater the transaction fee discount and VIP rights; BELEM VIP, in all types of currency transactions on the platform, can reduce the handling fee up to 70%. After its launch, it caused a wave of discussion in the industry.
BELEM VIPs can become global partners, participate in community building, and get exclusive rebates. It will hold offline summits, high-end salons, seminars, and exchanges from time to time, and VIPs can participate first. BELEM's authoritative financial team will provide exclusive trading instructions to help you make more accurate investments.
Prior to this, there was no such value-added mechanism for user revenue in the industry. Belem. cc provides users with not only financial services but also to build a transparent, open, shared, and win-win global financial ecosystem.
Furthermore, Belem. cc implements the highest level of protection for user funds. Under the strict supervision of the financial market and the high standards of the Belem.cc exchange, all user funds are Belem.cc placed in segregated accounts, separate from the operating funds of the Belem.cc exchange, ensuring that customer funds will not be used for other purposes. Belem.cc deposit and withdrawal speed is much faster than first-tier exchanges, such as Canada's cryptocurrency exchange Coinsquare withdrawal takes 3-9 business days, Wealthsimple Crypto withdrawal takes 3-5 days, and Belem.cc only needs at most 3 working days.
About Belem.cc:
Founded in 2017, Belem.cc Exchange covers 120 countries worldwide and has more than 8 million users, with "users are wealth" as its core value, providing tens of millions of crypto users with a wide range of blockchain asset services, including Bitcoin, Ethereum, and other digital currency exchange transactions. Provide users with contract trading, C2C, OTC, asset management, and other rich user trading and financial management forms.
The core members of the Belem.cc Exchange is an early investor in crypto assets, and the technical team comes from Google, Oracle, Citi, Goldman Sachs, and other top 500 Internet finance venture capital companies, which continue to focus on products and services, and Belem.cc has grown into a world-class comprehensive crypto asset trading platform.
Belem.cc Exchange is equipped with the world's most cutting-edge technical talents and the industry's top elite team, with rich experience and technical accumulation, and knowledge reserves, aiming to create a new model of technology finance for users and optimize and improve user experience.
Additionally, Belem.cc will continue to make use of the advantages of blockchain decentralization and database security and reliability and build a decentralized, more efficient, transparent, and open asset trading service world composed of cryptocurrency and global digital asset trading in view of the opaque and centralized operation of the cryptocurrency trading process.
Media Contact
Company Name: Belem Exchange
Contact Person: Ben Recharged
Email: Send Email
Country: United Kingdom
Website: belem.im