Membrane Filtration Market worth $9.9 billion by 2028 | Key Players are Alfa Laval, DuPont, 3M, and TORAY INDUSTRIES, INC.
The membrane filtering industry is seeing tremendous growth, notably in the dairy, food and beverage, and wine and beer industries. This increased interest can be due to a variety of things. Membrane filtration is increasingly being used in the dairy industry to improve the quality and shelf life of dairy products such as milk, cheese, and yogurt while also removing contaminants and germs.
According to a research report "Membrane Filtration Market by Application (Dairy Products, Drinks & Concentrates, Wine & Beer), Module Design (Spiral Wound, Tubular Systems, Plate & Frame and Hollow Fiber), Membrane Material, Type and Region – Global Forecast to 2028" published by MarketsandMarkets, the membrane filtration market is estimated at USD 7.0 billion in 2023 and is projected to reach USD 9.9 billion by 2028, at a CAGR of 7.2% from 2023 to 2028. Membrane technologies play a significant role in the purification and filtration of food & beverage products, dairy products, wineries, and breweries. Some of the prominent membrane filtration technologies, such as ultrafiltration, microfiltration, nanofiltration, and reverse osmosis, are already applied in the above-mentioned industries on a large scale. A few applications include desalination by reverse osmosis (RO), wastewater treatment by membrane reactors (MBR), and water sterilization through ultrafiltration (UF) for food & beverages. Moreover, membrane technologies effectively meet the sustainability criteria in terms of ease of use, energy consumption, environmental impact, land usage, flexibility, and adaptability, which fuels the demand for this technology.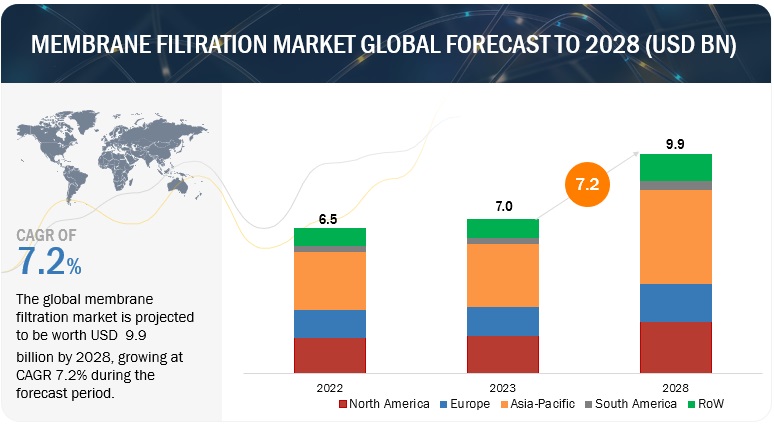 Download PDF Brochure: https://www.marketsandmarkets.com/pdfdownloadNew.asp?id=68840418
The fast-growing dairy industry across the world, emerging technologies in membrane filtration, advantages offered by membrane filtration technologies (UF, MF, NF, and RO), and the rising demand for high-quality and safe food products are some of the major factors that are expected to drive the global membrane filtration market during the review period. The rapid urbanization, income growth, and consumers' willingness to pay for premium products are also expected to influence the demand for membrane filtration technologies to a certain extent.
However, the high installation cost of membrane filtration equipment and its associated technologies is expected to be a major restraint that would impact the global membrane filtration market growth during the review period. Additionally, the lack of awareness among food, beverage, and processed water producers in developing countries about the advantages offered by these products may act as a prominent challenge for future market growth. Despite these challenges, new opportunities are being created for membrane filtration market players due to the growing desalination projects in the Middle East and the increasing incidence of waterborne diseases worldwide.
Get 10% Free Customization on this Report: https://www.marketsandmarkets.com/requestCustomizationNew.asp?id=68840418
The reverse osmosis in the type segment is estimated to grow at 7.5% during the forecasted period.
Reverse osmosis is a widely employed water purification method in the food and beverage industry known for its exceptional efficiency, capable of removing nearly 99% of various mineral contaminants. This process involves applying pressure to drive water through a semi-permeable membrane, effectively eliminating a wide range of impurities such as particles, flavors, colors, and odors. Traditional reverse osmosis systems are typically designed with multiple stages, each responsible for reducing half of the wastewater generated in the preceding stage.
In the beverage sector, reverse osmosis has gained significant prominence. Since water constitutes a crucial ingredient in the beverage manufacturing process, the filtration of water holds paramount importance. Beverage manufacturers are exceptionally meticulous when it comes to the purity and sterility of the water they employ. Usually, the water used in the beverage industry is sourced from municipal supplies, which, while potable, may contain traces of hardness or heavy metal deposits often originating from the water transportation infrastructure. These impurities have the potential to impact the water's taste, subsequently affecting the overall flavor of the beverages produced. To mitigate this concern, reverse osmosis is implemented in beverage production facilities.
Spiral wound is estimated to dominate the by module design segment in the membrane filtration market.
Spiral wound modules are a crucial component within membrane filtration systems, serving diverse industries such as water treatment, dairy, food, and beverage production, among others. These modules play a pivotal role in the separation of particles, impurities, and contaminants from liquids, rendering them an indispensable element in contemporary filtration technology. The structure of spiral wound modules comprises a permeate collection tube, a feed spacer, and multiple layers of flat sheets or hollow fiber membranes arranged in a spiral configuration. This design optimizes the available surface area while minimizing the physical footprint, resulting in the high efficiency of spiral wound modules across a range of filtration processes.
Notably, spiral wound modules are commonly employed for the removal of dissolved solids from solutions, especially in nanofiltration and reverse osmosis processes. These modules are available in various configurations, featuring different types of spacers, membrane materials, lengths, and diameters, which makes them versatile and adaptable to numerous applications. They find application in processes related to bottled water, dairy production, and the beverage industry.
In the realm of juice concentration processes, spiral wound modules demonstrate remarkable efficiency and enjoy widespread use, particularly in the concentration of juices derived from sources like sugarcane, oranges, and synthetic sources. In the dairy sector, these modules are indispensable for tasks such as whey and cheese concentration. Prominent industry leaders, such as Koch Membrane Systems, offer a diverse range of highly effective spiral membrane modules tailored specifically for the dairy industry. These solutions assist dairy producers in reducing production costs while maintaining the production of high-quality dairy products.
Request Sample Pages: https://www.marketsandmarkets.com/requestsampleNew.asp?id=68840418
Asia Pacific is estimated to grow at the fastest CAGR in the membrane filtration market.
The Asia Pacific region is currently experiencing a significant increase in demand for membrane filtration technology, particularly within the dairy, food and beverage, and wine and beer industries. This surge in demand can be attributed to a combination of factors, including a growing population, urbanization, heightened consumer awareness of food safety, and an escalating preference for high-quality products. Within the dairy sector, membrane filtration processes such as ultrafiltration and microfiltration are being employed to enhance product quality, extend shelf life, standardize compositions, and reduce waste. In the food and beverage industry, membrane filtration plays a pivotal role in clarifying liquids, concentrating flavors and nutrients, maintaining product quality, and ensuring safety and compliance with rigorous standards. Additionally, in the emerging wine and beer market of the region, membrane filtration is crucial for achieving clarity, stability, flavor preservation, quality control, and production efficiency. As these industries continue to expand and evolve, membrane filtration technology is poised to play an increasingly essential role in meeting the growing demands of consumers and regulatory requirements.
Major key players operating in the membrane filtration market Alfa Laval (Sweden), GEA Group Aktiengesellschaft (Germany), DuPont (US), 3M (US) and TORAY INDUSTRIES, INC.(Japan).
About MarketsandMarkets™
MarketsandMarkets™ has been recognized as one of America's best management consulting firms by Forbes, as per their recent report.
MarketsandMarkets™ is a blue ocean alternative in growth consulting and program management, leveraging a man-machine offering to drive supernormal growth for progressive organizations in the B2B space. We have the widest lens on emerging technologies, making us proficient in co-creating supernormal growth for clients.
Earlier this year, we made a formal transformation into one of America's best management consulting firms as per a survey conducted by Forbes.
The B2B economy is witnessing the emergence of $25 trillion of new revenue streams that are substituting existing revenue streams in this decade alone. We work with clients on growth programs, helping them monetize this $25 trillion opportunity through our service lines – TAM Expansion, Go-to-Market (GTM) Strategy to Execution, Market Share Gain, Account Enablement, and Thought Leadership Marketing.
Built on the 'GIVE Growth' principle, we work with several Forbes Global 2000 B2B companies – helping them stay relevant in a disruptive ecosystem. Our insights and strategies are molded by our industry experts, cutting-edge AI-powered Market Intelligence Cloud, and years of research. The KnowledgeStore™ (our Market Intelligence Cloud) integrates our research, facilitates an analysis of interconnections through a set of applications, helping clients look at the entire ecosystem and understand the revenue shifts happening in their industry.
To find out more, visit www.MarketsandMarkets™.com or follow us on Twitter, LinkedIn and Facebook.
Media Contact
Company Name: MarketsandMarkets™ Research Private Ltd.
Contact Person: Mr. Aashish Mehra
Email: Send Email
Phone: 18886006441
Address:630 Dundee Road Suite 430
City: Northbrook
State: IL 60062
Country: United States
Website: https://www.marketsandmarkets.com/Market-Reports/membrane-filtration-market-68840418.html