ClickStraw, the reusable drinking straw that can be clicked open for easy cleaning launches a Kickstarter campaign
ClickStraw is probably the most innovative straw in the world that is not only reusable but also designed in a way that it can be clicked open for convenient cleaning. It is designed to combat the use of single-use plastic that is filling up our oceans and killing marine life. With governments around the world making efforts to banning single-use plastic, ClickStraw is making a small but significant step by presenting a better straw alternative that is sustainable and easy to clean.
On top of that the founders behind ClickStraw, Frank and Philip Healey, cooperate with NGOs in Indonesia and the Phillipines to remove plastic waste that is currently in the ocean. For maximum transparency ClickStraw packaging will show a QR code that allows consumers to scan and track exactly what project they are funding with their purchase. A single pack of ClickStraws, will result in 2lbs less garbage in the oceans. Collectively, this could make a big impact on the world.
In the past few years, the world has seen several single-use straw alternatives like straws made form pasta, metal, glass and paper but most of them failed to bring a solid and sustainable solution that appeals the global consumers. While glass straws are prone to breakage and hazard, the metal straws are often difficult to clean and the straws made from edible materials lose their structural integrity if they stay too long in your drink, produce germs even if they are not in use and are not very suitable for hot beverages.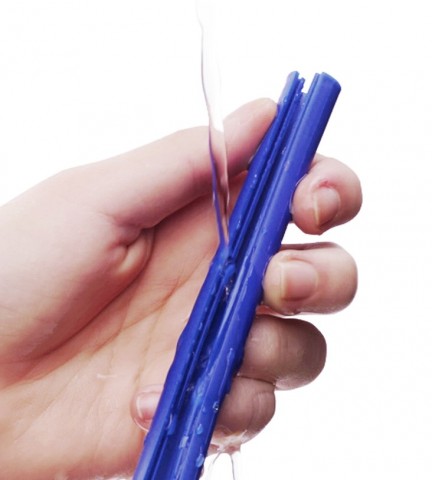 ClickStraw overcomes all the shortcomings of traditional straws and presents a better alternative that contributes to the betterment of our environment. Made from TPE, ClickStraw is can be click opened lengthwise, for the cleaning process, so there is no residue left inside for a clean and hygienic straw that is ready to be used again. It is dishwasher safe and suitable for both hot and cold drinks.TPE is also considered better than Bioplastics, as the latter involves a complex recycling process. The use of TPE ensures that the straw is resistant, lasts for a long time and can easily be recycled.
It is to be noted that the global garbage problem has less to do with plastic but poor waste management process. The garbage in our oceans ends up there because it is not separated, recycled and processed. It is sold in many countries including Germany and the US. After sorting the easiest raw materials from the garbage, the rest is mostly shipped to Africa or Asia that eventually ends up in a hole in the ground or the sea. To ensure that it will be recycled and does not end up as plastic waste, the founders are promising a free & lifetime return service. They guarantee that every returned ClickStraw will be re-constructed into secondary plastic and reused in new applications. ClickStraw is doing its part by allowing its customers to send back the straw to them if they no longer want it.
The product has recently launched a Kickstarter campaign that'll only be funded if it reaches its goal by April 10th, 2020.
Media Contact
Company Name: HELYprodukte GmbH
Contact Person: Frank Healey
Email: Send Email
Country: Germany
Website: www.clickstraw.de