Clinical Tests Of The Innovative Complex Solution "Neuro V" for the post-Covid Cognitive Rehabilitation Commences In Russia Starting From March 2021.
A Russian company "Neurobotics" announced clinical testing of the software and hardware system "Neuro V" for neurological rehabilitation of cognitive abilities and psychological functions in patients suffered from the COVID-19.
Each participant of the named activity will pass at least 20 training sessions under close monitoring. The researchers will monitor and record the variations of diverse psycho-physiological data at every stage and produce reports about effectiveness of the successful methodology.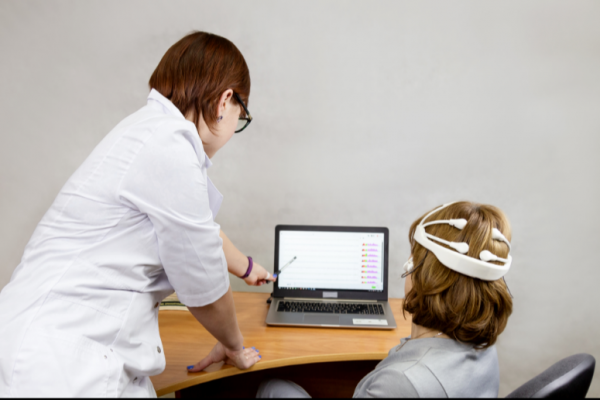 One of the significant consequences of the COVID-19 disease is the post-COVID stress disorder which manifests itself in human cognitive and mental activity disturbance: attention, intellect and sleep disorders, hyperthermia, apathy, or depression.
Effective stress disorder correction methods are those which restore optimal brain functioning, allowing to normalize the physical and mental condition of the patient. In this context, the correction methods safety and a long-term effect are of great significance. All these requirements are met by training of brain functional status regulatory patterns, performed by the patients themselves, with help of the neuro-biofeedback software and neuro interfaces. The latter provide feedback for the patient about their brain functioning and allow to influence consciousness state.
Neuro-biofeedback undoubtedly is a priority among other stress-management methods, as it allows a person to practice independent brain bio-electric activity regulation and their functional state, including the psychological-emotional and motivational areas.
The complex system"Neuro V" consists of a six-channel EEG headband and a special software stack for neuro-training which allows the user to undertake a series of self-administered sessions, and as a result to restore cognitive and mental abilities. The EEG headband is designed using the patented technology of the dry active electrodes, which excludes the traditional necessity of using a gel.
Currently, the EEG headbands "Neuro V" are used for the correction of mental and cognitive abilities of children and adults in more than 20 regions of the Russian Federation, as well as in Germany, France, Ireland, UK, UAE, and the USA. In the nearest future, the same clinical testing will commence in the USA and European Union also.
Media Contact Information
Valentin Chulkov (English speaking)
+353 1 9011601
[email protected]
Media Contact
Company Name: Neurobotics
Contact Person: Valentin Chulkov (English speaking)
Email: Send Email
Phone: +353 1 9011601
Country: Russian Federation
Website: https://neurobotics.ru/en/